» Exercise, Meditation, Qigong » Emei Qigong Power
If you're new here, you may want to subscribe to my RSS feed. Thanks for visiting!
Emei Qigong Power
A phenomenal man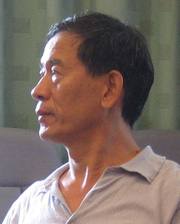 Emei qigong Grandmaster Fu Wei Zhong has been through an extensive Chinese medical training since he was 6 years old, he practiced since he was 12. He's also studied Buddhism theology.  Emei qigong is an exercise, meditation and healing and has a very much heart centered focus. Buddhism philosophy of kindness is big part of Emei qigong. That is why I like Emei qigong exercises. As a layman, Grandmaster Fu practiced many hours of meditation to get to where he is now. He has gone through seclusion in Emei Mountains in China for years at the time of his training. These days he meditates 2-4 hours a day. I asked him what it is like when he meditates. Master Fu told me he could hear a leaf sprouting out from a tree branch; a leaf breaking off the branch and falling. He could hear ants walking.  Immediately, I imagined army of ants marching around him very loudly. So I asked him are they loud?  Master Fu answered no, they are very gentl. Well, my meditation is far away from hearing these sounds. I have many hours and years to reach that level and I might not even get there.
Master Fu is a phenomenal man. There are things he can do that are beyond anyone's imagination. He can manifest things without having anything to start with. It would take him hour or hours of meditation to focus on things before he could execute what ever it is he is going to manifest.  I won't mention here what he's capable of doing though.
How many people have you met who could reach this level?
www.emeiqigong.us/
www.zenhealing-emeiqigong.com/
http://www.sandiegoqigong.com/
Filed under: Exercise, Meditation, Qigong · Tags: Exercise, Meditation, phenomenal, Qigong Power